Privacy Policy
SEXDOLLS PRIVACY PAGE
Privacy Policy at sexdolls.co.uk.
Today more than ever, privacy and security are very important issues that all websites should treat as a priority. You can be assured that sexdolls.co.uk take your security very seriously indeed. Your privacy is another important factor we also put great importance on. To re-assure you about shopping with sex dolls.co.uk we have listed here some important information to help you.
We only use industry approved SSL secure connections when you enter information on our site.
Any payments taken are processed securely through Lloyds TSB Bank PLC or PayPal.
Information you give is treated strictly confidential, we do not pass details of what you have ordered to the bank or credit/debit card companies.
Because your privacy is very important your personal details are never sold, hired or provided to any third parties.
Sexdolls.co.uk is owned and operated by
Magic Moments - 4 Burgess Road, Hastings, East Sussex TN35 4NR
Magic Moments are committed to keep your personal details confidential. They will not use your information for any other purpose beyond the stated permissions you give to us.Server Logs - as all web servers do your IP address is recorded however, this information is only used to allow us to monitor traffic volumes to our site and to measure the numbers of visitors reaching our site. Individual tracking of IP addresses is not performed by our site.Advertising - Magic Moments do not carry advertisements for other companies unconnected with our business, any external links on our site are purely given in an effort to help and inform you the visitor. Any external links within our site are carefully checked on a regular basis and whilst every care is taken we cannot accept any responsibility for the content or matters arising from these external links.Competitions and Promotions - When sexdolls.co.uk publish competitions and promotions on this site, some personal details are requested which may include requesting your email address, name address and post code and other information required for the purposes of the competition or promotion. Any data collected is held securely and will not be passed on to third parties, by entering a competition or participating in a promotion you are opting-in and granting permission for us to hold these details securely in complete confidence.Email and Online Forms - If requesting a catalogue by email using our online form or contacting us by email for any query the personal information you supply will be held securely and will only be used for us to attend to your request.Newsletter - If you choose to request our newsletter, the personal details you supply will be used purely for the purpose of sending our newsletter to you and nothing else. A request for our newsletter is deemed by us as you opting-in to receive our newsletter which details special offers, bargains and other information connected with Magic Moments. Signing up to our newsletter places you under no obligation to purchase and you may opt-out at anytime by simply clicking on the unsubscribe link at the bottom of our newsletter.Data Protection - Magic Moments are registered under the Data Protection Register. We are required under this Act of Parliament to comply with a number of important principles and legal obligations. This is to ensure your safety and to assure you any data we hold is held securely and is processed in a professional and safe manner. Any data queries can be addressed to S Dalley, The Data Controller, Magic Moments, PO BOX 377, Hastings East Sussex TN34 9HX. Policy Changes To Privacy - Online and statutory requirements change from time to time which means our privacy policy may change. Any changes made will be implemented throughout our site as and when this is required.
HOW DO I KNOW MY PAYMENT IS SECURE?
Sexdolls.co.uk use data encryption to ensure safe and secure transactions. When you have selected your products and arrive at our checkout page, this page is a secure page you may check this by looking at the address bar in your browser which will start with https: instead of the normal page http: the extra S stands for secure. A small padlock symbol will also appear on the page, usually this is seen in the top or bottom of your browser window depending on the type of browser you are using. Our payment area is secured using industry standard SSL (secure sockets layer) technology, this creates an encrypted link between a web server and your browser. The SSL link ensures that all data passed between our web server and your browser is kept private and secure. This same system is used by banks and hundreds of millions of websites worldwide to ensure complete security for you the customer. We hold a valid SSL certificate and can only obtain this certificate after being carefully vetted, our SSL certificate is shown here: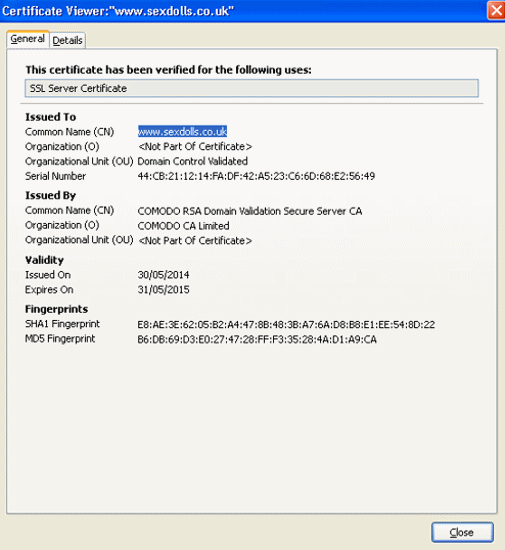 This SSL certificate is provided by the leading certificate authority, Comodo. This company are web trust compliant and their business including the business practice they operate and the processes they use have been rigorously tested by and audited by KPMG, the highly respected global firm of auditors. In order for us to qualify and legally be able to use this certificate we had to validate our company, site and business practices. After thorough vetting and proof that we are a legitimate business and that we are responsible for the site sexdolls.co.uk, Comodo issued us with a High Assurance Certificate which is the highest level of data encryption. This High Assurance Certificate is your assurance that you have a secure encrypted link with our website and that we are an accountable and legitimate organisation, giving you total peace of mind.
ACCREDITED ORGANISATIONS - FURTHER PROOF OF PRIVACY
Magic Moments Enterprises are also members of an an official accredited retailer ISIS (Internet Shopping Is Safe) and authorised retailer with IDIS (Internet Delivery Is Safe) being registered members of these organisations means we must adhere to strict guidelines and undertake to trade in a manner that is fair, decent, honest and truthful. ISIS review and monitor our websites and we have had our business, VAT and Data Protection registrations checked and verified by IMRG. We act within a strict code of practice.
OTHER PAGES CONNECTED WITH PRIVACY AND SECURITY
The following pages contain further information about sexdolls.co.uk that you may find useful